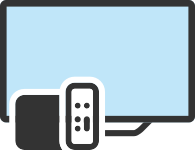 HOME ENTERTAINMENT
If you're in the market for a new HDMI cable, the last thing you want to do is just grab a random model off the shelf and hope it's the right one for you. This buying guide will equip you with all the information you need to be able to figure out which HDMI cable best fits your needs.
Are you a movie buff? Or just need a cinematic experience at home? Love listening to audio loud? Or desire to watch your speakers BOOM?
While these two TV dsiplay technologies sound similar, the results they offer in terms of visuals is distinct. Both are at the top of the pile when it comes to excellence in...