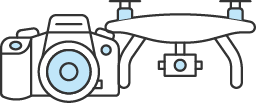 CAMERAS & ACCESSORIES
Photography grabs people's attention nowadays as the majority would love to share their daily events on the different social media platforms. Many would also prefer to promote their own businesses through taking vivid photos and recording explanatory videos! No matter the reason why photography is awesome and no matter the type of camera you use,
There are so many different types of cameras lenses and each of them is made for a specific purpose. Whether you are a professional photographer or just talented and love photography you need to know the types of cameras lenses and consider so many factors before digging to purchase a new lens.
There are thousands and thousands of cameras and lenses out there. It must be confusing for you, especially if you are an enthusiast who is just starting out. Which camera can you rely on to capture your most valuable memories? Which camera should you buy? What is the right camera for you? In today's article,