Turn Your Living Room Into a Cinema
Expanding your home entertainment setup beyond just a TV on the wall can be really intimidating. Should you keep your TV, upgrade to a bigger TV or get a projector? Do you need a soundbar, or a surround sound system? What's the difference anyway? And finally when all is said and done you'll have to figure out how to connect it all and whether it's all compatible.
This is why we've prepared a step by step guide on how to go about building your home cinema and the things you have to consider when doing so.
Your Room, Your Cinema
Before we get into any sort of technical detail, one consideration that you always have to keep in mind is the size of your room. There's no such thing as a perfect home theater setup, it all depends on the space you're going to put the equipment in.
As a general rule of thumb, the bigger the room, the more elaborate you can get with your home cinema. It's not only about having enough space to fit all the equipment , you also need to make sure that there's enough room for you to be at a comfortable distance away from the screen and the speakers so you can take in the full experience.
Another important consideration that is often ignored is the brightness of your room. Most living rooms have a good amount of ambient light coming in through the windows, so make sure that you have blinds and curtains in place to prevent that. Investing in smart lights that are dimmable will improve your home cinema experience.
TV's vs. Projector
If you don't have enough space or you just don't want to get into the projector business, then any 4K UHD TV above 55″ should do the trick.
It goes without saying that you should skip HD altogether and only aim for 4K UHD Smart TV's . As implied in the name, 4K provides 4 times the pixels that a Full HD TV offers, which allows for a much clearer display.
In comparison to projectors, TV's are much more suited for small to mid-sized rooms. If you already have a 4K UHD TV that is a good fit for your room, then you can skip this step altogether. If not, check out our collection of Smart 4K UHD TV's.
If you do have the space to go big, a projector is more cost effective than a TV and provides a much more immersive viewing experience.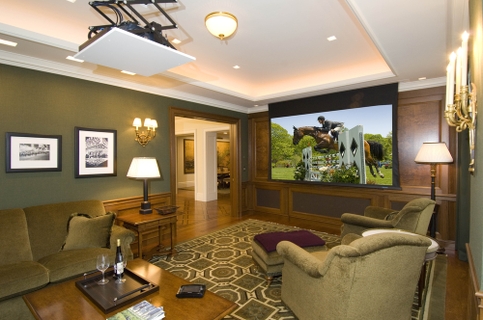 Even if on paper a projector offers the same number of pixels that a TV does, you'll really notice a difference when those pixels are projected on a 100 inch screen and they're given the space they need to really pop out. Check out our awesome collection of projectors.
Audio
One of the major drawbacks of TV's getting increasingly thinner over the years is that the space allotted for drivers has gotten smaller and as result audio quality has suffered. You can't rely on your TV's built in speakers to deliver audio that matches its majestic 4K picture quality.
Fortunately, you don't have to go all out and invest in a complete surround sound system to get the audio quality you need. Soundbars like this one from JBL and this soundbar from Sony can or the provide powerful immersive sound without taking too much space. They also both come with sub-woofers that provide a deep booming bass sound so you'll have all frequencies of sound covered
If you're interested in a more elaborate setup, then you can look into investing in a surround sound system. Audio systems like the Sony Home Cinema System plant speakers strategically around your room to provide an immersive 3D sound experience.
Regardless of which way you decide to go about setting up your home cinema, you'll always find everything you need at Xcite.