Set Up your Smart Home with Xcite Kuwait
Go Smart and Make your House a Home
With our technology growing increasingly integrated and working its way to becoming an essential part of our daily routine, the home automation industry has significantly evolved and smart homes are now on their way to becoming the rule; rather than the exception.
You've probably heard the terms "home automation" and "smart home integration" being thrown around by interior designers, and tech enthusiasts. And while it may all sound like a scene from a futuristic movie where you live with robots and have in-depth conversations with your fridge, it's actually more like connecting your appliances and gadgets to work autonomously as a unit with a smart home system.
A smart home system is the command center by which you can control your smart devices. So instead of separately managing your TV, lights, Speakers and security; you can make sure they're all compatible with one smart home system that manages and automates all their functions.
Which Smart Home System Should you Use?
The smart home system is the basis of your home automation process. Smart home systems aren't just there to play music and tell you about the weather, they can do much more. A good smart home system is one that is reliable, responsive and offers a lot of integration options.
You're going to want to look into the two key players in the Smart Ecosystem game: Amazon Alexa, and Google Assistant.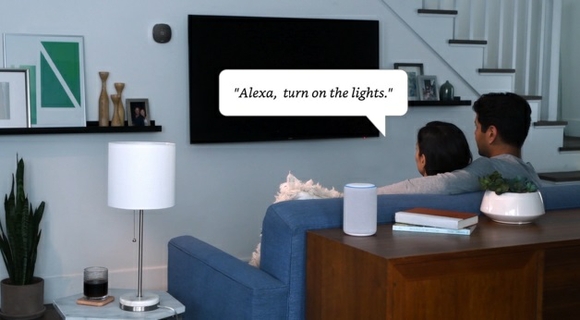 The Echo line from Amazon's Smart assistant offers the most third-party integrations. Supporting all types of devices from TV's to thermostat's and a long list of brands including Samsung, Philips and LG. You simply can't go wrong with Alexa.
Amazon offers an extensive line of smart speakers that will respond to your commands and control your devices.
After you've chosen your smart speaker, you can start integrating your smart home by investing in devices that are compatible with your Alexa smart speaker.
As far as entertainment goes, Amazon's Alexa will make sure that you are always up-to-date on the latest movies and music by allowing you to voice search and queue-up your favorite Netflix shows on a compatible Samsung Smart TV. Ask Alexa to recommend work playlists when you're working from home, or background music playlists for when you have guests over.
While the list of smart devices supported by Google Home isn't quite as extensive as that of Amazon's echo, Google Home offers other advantages. Thanks to Google's enormous database and leading search engine, there's no doubt that Google Assistant is the best digital assistant on the market. The support offered is highly intuitive and the speech recognition is second to none. While talking to Google Assistant you can speak in a casual conversational tone whereas with other assistants, you might have to be more deliberate and specific with your word-choice. In addition, Google assistant will keep you up to date on your meeting schedule from Google calendar, your daily commute from Google Maps and all other daily activities.
Most new Sony and Philips TV's offer a built in Google Assistant that uses the microphone from the Google home speaker/hub to take voice commands.
If your current TV doesn't support Google Assistant and you're not in the market for a new set, don't worry about it. You can connect Google's Chromecast to any TV with an HDMI port so you can stream content directly from your phone/tablet by voice command.
Smart Lighting
Who said lighting should be arbitrary?
Make your house a home by redesigning the lighting system and installing Philips Hue bulbs. Automate your lighting schedule, choose lighting presets and design different lighting patterns based on your mood and the time of day. Simply trigger these actions with a voice command to your Google Assistant or Amazon Alexa.
Smart Connection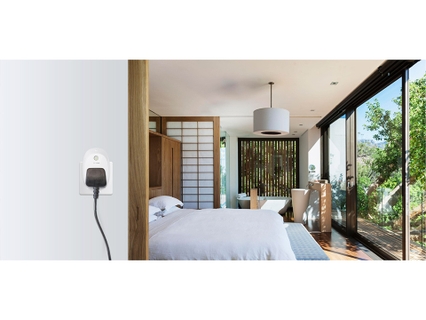 The TP-Link smart wifi plug performs all the tasks as a traditional electric plug, and much more. Use it to schedule powering your devices off and on automatically to save power. Schedule your TV and sound speakers to power off 30 minutes after your bed time for a smooth uninterrupted sleep cycle. Get energy consumption reports and monitor your energy expenditure in real time as well.
Smart Security
Set your mind at ease by fully automating your security to keep you safe and alert at all times, whether you're in the house or out.
Ring's smart video doorbell allows you to monitor the area outside your door and notifies you when someone rings the bell so you can answer the door from anywhere in your house. It also supports a video chat with the person outside your door as an extra security measure.
Now that you've got the exterior covered, you can take security to another level with Orvibo's 4-in1 Smart Home Security Kit which provides a camera and motion sensors to immediately detect and report any abnormal activity inside the house.
Start Slow, Build Smart
To wrap up, building a fully autonomous smart home can sound a bit daunting at first, but it doesn't have to be. You can start with the basics and build up. Aim for convenience and comfort and check out the latest and best home automation gadgets at Xcite Kuwait.