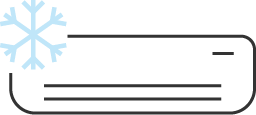 Air Conditioners
BUYING GUIDES
Whether you live along the seaside or in the midst of the desert, the heat wave will find its way to you. Summer has officially arrived in Kuwait and so with it the absolute need of air conditioners to survive this kind of weather. Now you need to choose the right air conditioner to fit your house, rooms, or office. But before that,
n our last article, we talked about the joyous occasion that is Hala February. We gave you a glimpse about the background of this event. How it started in 1999 and how we celebrated the event every year without fail ever since. By now, you must already know that Hala February is an event dedicated to celebrating spring and bettering the local economy.
Summer is months away, yet you can feel yourself sweating buckets! The well-known Kuwaiti meteorologist Al-Ojairi once said in one of his interviews, "the moment you feel delight in the sip of cold water, is the moment you know that summer has arrived". It's true, summer is crawling to Kuwait and we can already feel its existence among us all.